Why are professional tennis umpires given badges?
It may be the best seat in the house but the person sitting there has worked his way up to achieve that position. A chair umpire's life is much harder than one can think of. To understand the life of tennis umpires its important to understand how he/she got into the officiating business right from the scratch.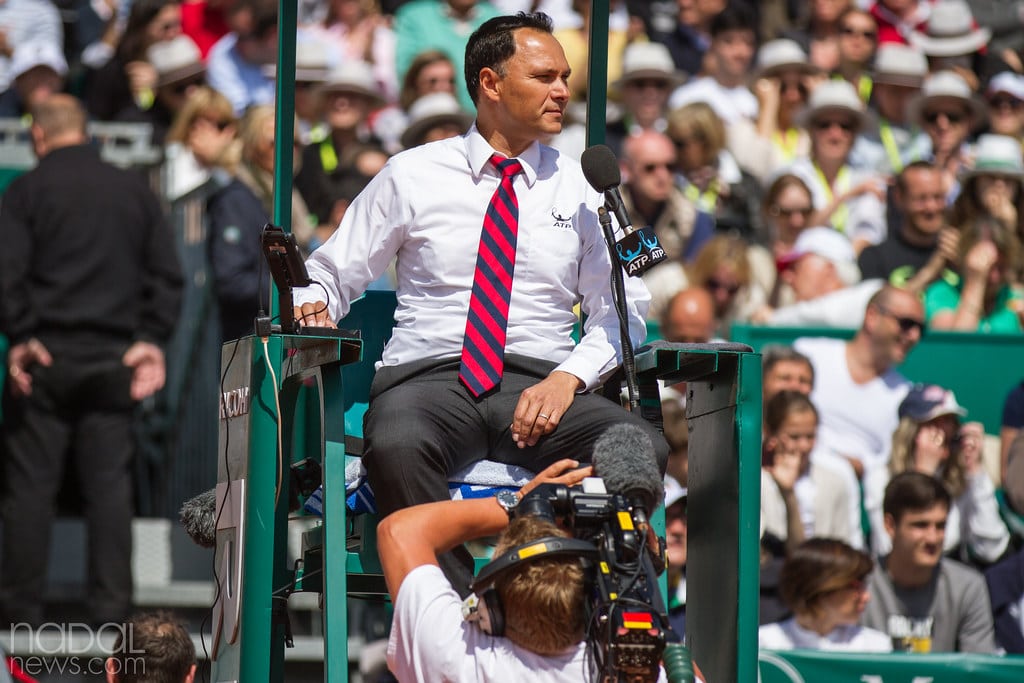 Local and National impact of tennis
The National Tennis Association of a particular country monitors the progress of a chair umpire once he/she enrols himself in their system. It depends a lot on how much tennis has influenced that particular country.

Line Umpire – Traits and Tests
You can't be a chair umpire straight away. There are two types of umpires in tennis: chair and line. At first, the person is eligible to become a line umpire. Within the echelons of line umpire lie 4 levels: L1,L2, L3, L4. While clearing those levels, an umpire's abilities like concentration and management skills are tested. They also have to give written tests pertaining to the laws of tennis. Only when they clear these thorough evaluations, they are qualified to become a chair umpire.
Chair Umpire – Toil and Trouble
It takes years to become a chair umpire and it takes at least a decade to officiate a grand slam OR tour level match. Even chair umpires have various stratums to clear. Just like there are various belts in karate, the beginner chair umpire is given a green badge. The green badge umpire can officiate local matches and matches taking part in his own country. The next badge is the white badge. By attaining this badge, the person can be a referee and a chief umpire as well. But this he can do in his own country only. The final stages involve bronze, silver and gold badges where the umpire can officiate a match internationally. Gold badge holders are the ones who qualify as umpires for ATP and WTA tour level matches.

The Job
Being a tennis umpire requires a lot of resilience in terms of facing a player's outbursts who may not agree with your decision. From handling insults to giving code violations when required a tennis umpire's role is a tough one indeed. They need to be loud and clear in saying whether the ball is in or out. Every umpire is rated out of seven for his performance. Depending on his scores, he/she is promoted or demoted.

"We rate line umpires. Give evaluation. Help out and educate upcoming umpires, watch them and give them advice. Meetings almost every day, where we watch videos for different situations. We discuss situations, watch some incidents, ask, Why are you giving a challenge? We go up in the Hawkeye booth so they send out the right image, left baseline, etc. To give the review officials a rest. We don't have time to do a lot of sightingseeing. It's tennis the whole day."- Mohammad Lahyani, ATP's Gold Badge umpire

The Working Official
Chair umpiring is a tough task. It keeps you away from home and also engages you in hectic travels. Personal and family life is compromised. The hard working chair umpire seated high on his chair thoroughly deserves a pat on the back for smooth functioning of the ongoing match and monitoring the ball boys and girls, audience and players.

There are a specific set of rules laid out by the International Tennis Federation that the players have to follow during a match. Whether their behavior, playing style and conduct is as per the rules or not is watched over by the chair umpire.