What is the difference between expanding wild and stacked wild in slots?
Within a traditional video slot, there are quite a few bonus features to be activated. The wild is among the most common and the most popular of these. A wild symbol is simply a symbol on a reel, which you can use with any other when you land on it to build a winning combo – any other symbol with the exception of the scatter symbol.
To get a winning combo, you can use each wild across different pay lines in place of a different symbol on each line when you are playing a multiple pay line slot and you land one or more wild symbol across the reels.
However, wilds are quite flexible as symbols. While being very helpful for players to win, there are some differences when it comes to them. Either way, slot players appreciate their capability of bringing a win and with it, a big payout.
Slot game developers are always looking for new and exciting ways to improve the idea of a single symbol being a wild. Many of the most popular slots today have the latest wild features and trends.
Five types of wilds
There are five common types of wilds and that fact alone can result in confusion. They are stacked wilds, expanding wilds, cascading wilds, rolling wilds, and sticky wilds. This article deals with the first two types.
Stacked wilds
In essence, a stacked wild is a wild symbol that covers one whole reel when it drops. Usually, they come in 2, 3, 4, or 5 symbol bands. Some slot games have them show up on different reels. Others make it possible to get stacked wilds on every reel. Quite a few slots of the latter type have high variance. Still other slots feature stacked wilds only in bonus features like Free Spins. The payout potential becomes huge when you combine these with multipliers.
Stacked and expanding wilds work in more or less the same way. A stacked wild comes with one symbol dropping on a reel before it fills the spaces around it. It might just expand to fill the bottom or top part of the reel or it will fill in the entire reel. It's different with each game. To see the rules, you must look at the game's pay table. To access the pay table, look for a button labeled menu, info, paytable, etc. within the gaming interface.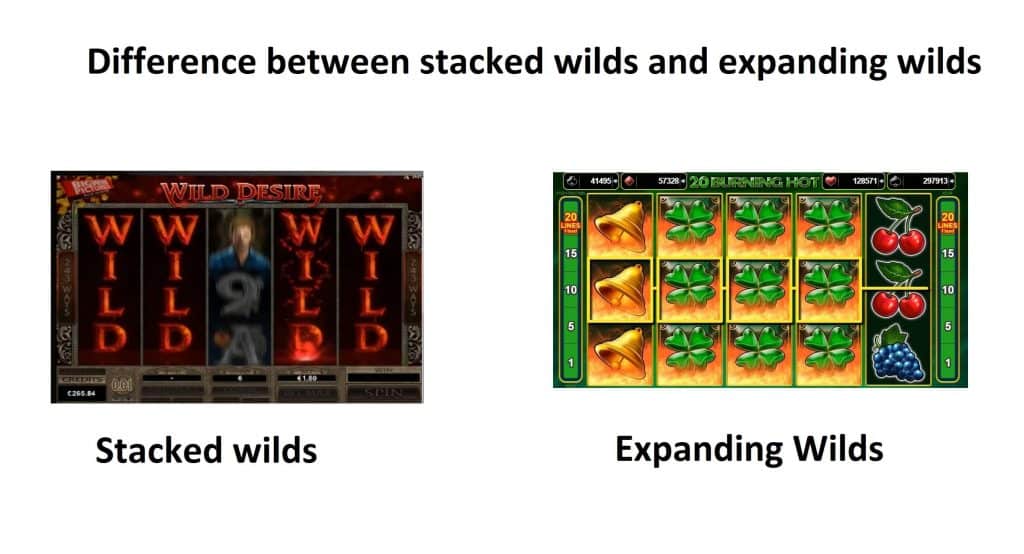 As stacked wilds cover a bigger area than standard wilds (that typically cover just one small part of the reel), they have much greater potential of bringing a win. Their name comes from the fact that they stack up on top of each other to create a group of wilds across one reel. If you stack a certain number of wilds on a reel in some games, this grows into an expanding wild, where wilds expand across the entire reel.
If you land a wild on a reel, you might land one or two more across other pay lines to increase your chances of winning. Wilds can stack vertically or horizontally across the reels, giving the player additional chances of winning. They are always a great feature to have.
Expanding Wilds
Many of the most popular slots offer expanding wilds alongside stacked wilds. Both types of wilds are highly appreciated by slot players. When you land one or more wilds on one reel, it's called an expanding wild. Each slot comes with certain criteria to be met, such as triggering a bonus round, hitting a specific combination, or stacking a given number of wilds. As mentioned, the wild expands to make every single symbol on the reel a wild.
In this case, players get a bigger chance of winning. Bonus games tend to feature expanding wilds very often, especially during free spins, when they may be known as sticky wilds. When a player hits a sticky wild, the reel they are on becomes completely Wild. Then, it stays that way throughout the Free Spins section. If you win 20 free spins and land a sticky wild on the tenth, the wilds will expand across the reel and remain available on the 10 spins left. If you trigger more free spins, they will be available for those too. Obviously, this increases your chances of a good payout a great deal.
Wilds are highly beneficial to players on their own and even more some when combined with the features above.