How to read a batting scorecard in cricket
In cricket, a batting scorecard represents the total number of runs hit by a team in one innings. This scorecard has many things to observe which can be broken down as follows:
Firstly, the uppermost bar would bear the name of the team. Immediately below it, a bar that acts like the subtitle will read the name of the series with the year, the number of the match in the series and the order of the innings. In some cases, the name of the venue is also added. For example if India is batting first against Australia, in the second of their three match series, the top two bars will read as follows:
INDIA
Paytm ODI series 2nd ODI – 1st innings
Below these bars is the body of the scorecard. This contains the name of the eleven players who would be playing in the match. The names of these players are in the order in which they are supposed to bat. The names of the two players who are currently playing is either highlighted or marked with an asterisk or the words "not out" are displayed beside their names. If a batsman gets out the following things will be added along side his name: the manner in which he got out, the number of runs that he scored, the number of balls he faced. The latter is written in curve brackets. For example, let's say Rohit Sharma has so far hit 23 runs in the 24 balls he faced. But on the next ball he is dismissed by Mitchell Starc because the wicket-keeper (Alex Carey) took the catch, the scorecard would read as follows:
R Sharma c Carey b Starc 23(25)
S Dhawan not out 115(135)
KL Rahul not out 150(140)
The bottom-most bar would give us information about three things: the number of runs scored through extras, the number of overs bowled in the innings, the number of runs scored in the innings and the number of wickets fallen.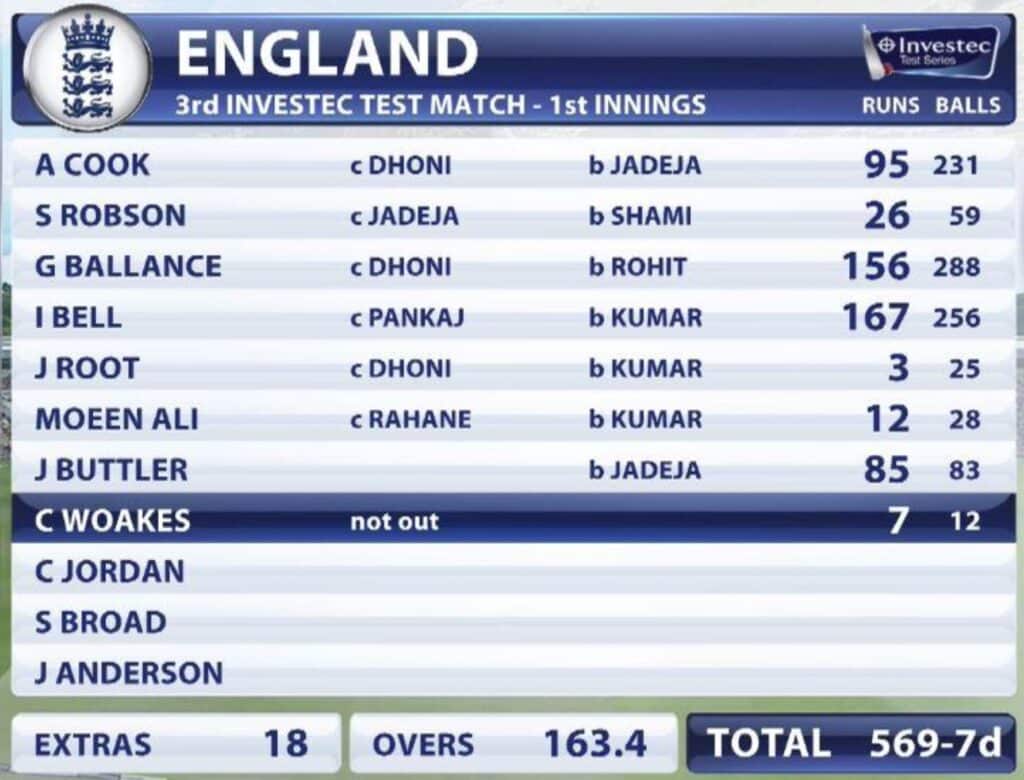 To read more about extras, click here
A team's total score is the number of runs scored by the batsmen plus the number of extras scored. The number of overs represent the total overs bowled at the completion of the innings. In limited-overs cricket, i.e., ODIs and T20, this number cannot exceed 50 and 20 respectively. Hence the bottom bar of the batting scorecard of a team that has scored 320 runs in 50 overs and lost 6 wickets might look something like this:
Extras: 12 Overs: 50.0 Total: 320-6
Thus, a batting scorecard can help you understand vital information like the highest scorer of the batting side, the most successful bowler from the bowling side, the number of extras given which reflects the bowling performance, the number of wickets fallen which too indicates how the bowlers bowled and the fielder who took the most catches in the innings.