Although tennis is played all over the world, less enthusiastic fans take notice of it only four times a year. In terms of sports betting, however, tennis offers a wide range of opportunities and matches that extend far beyond Grand Slam tournaments.
When it comes to betting on any sport, as with anything, knowledge is key. Successful tennis betting means you know how the sport works and the factors that can affect the results and you understand which events should be in your betting radar. Based on this, you develop strategies to try to minimize the risk.
How does tennis "work"?
The tennis scoring system seems strange to people who are just getting to know this game. In fact, the rules are simple – the first player with four points and a difference of at least two wins a round of the game. The first win in the game brings you "15", the second "30" and the third "40". The tie occurs when both sides have 40 points each. The one who earns a 2 point difference wins the game. The first player to win 6 games or the tiebreak wins the set. Winning 2 or 3 sets, depending on the tournament, determines the victory in the match.
How to bet on tennis?
Tennis offers plenty of betting options, although the offers may vary depending on the different bookmaker sites. The most common tennis bet is a direct or futures bet, depending on whether there is a favorite player to win the tournament.
Although the favorites often take low odds, the predictions do not always come true and it's hard to choose among the 128 players in the Grand Slam. Apart from conventional bets, where you try to predict the winner, you can make a handicap bet. Here, you choose a player who you think can beat his opponent by a certain difference in terms of sets.
Tennis also offers betting on a set. You bet on under / over a certain number of sets, the most commonly used one being for under / over 2.5 sets in a match. Futures are much more popular. You predict the winner of a major tournament weeks or even months before. In this way, you have better odds, but there's the risk that the player may be injured before the start of the tournament and you will lose the bet.
Live betting allows you to bet on matches that are currently being played. This can be exciting due to the fact that the odds move in real time and vary according to the current situation and outcome of the match.
There are also tennis bets focusing on things that may or may not happen during a match, regardless of who the ultimate winner is. They do not require much knowledge, but luck needs to be on your side. An example of this type of bet is whether there will be a tiebreak in a match or not.
The most popular tennis betting events
The world's eyes are on the Grand Slam when it starts. This is also when bookmakers start paying more attention to this sport and offer a large number of betting opportunities. Other important events are the Australian Open, the French Open, Wimbledon and the US Open.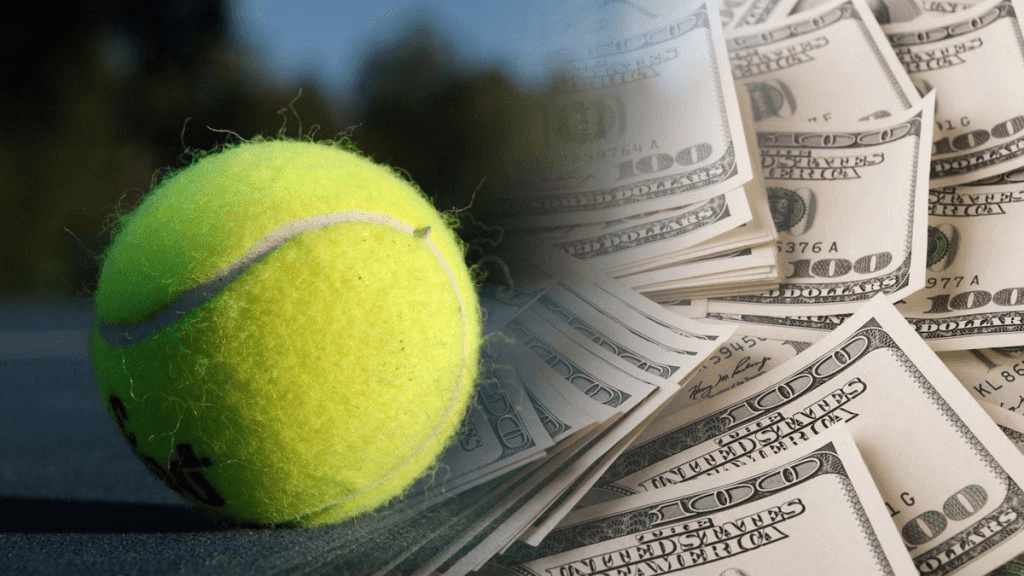 Tennis betting tips for beginners
For those who are new to tennis betting, there are several strategies that can be used and possibly, if applied correctly, increase your chances of winning. First and foremost: You need to know what the surface of the court is and what the players' preferences are.
Tennis tournaments are played on hard surfaces, clay, or grass. Hard surfaces facilitate faster gameplay and are preferred for powerful serves. Clay is slower, while grass is fast, but slippery. The Australian and US Open, for example, are played on courts with a hard surface. The French Open is played on clay, and Wimbledon – on grass.
When betting on individual matches, it is important to study the statistics of players, their records, and their scores against each other. For example, did you know that Federer struggled against David Nalbandian? Even the greatest players meet their match.
Finally, it is important to keep up with the player's physical condition. Tennis can be a brutal game and injuries are a fact of life. Before placing a bet, check the latest news and scores to make sure your favorite player is in good shape.
Tennis strategies worth exploring
Tennis is a game of running and nerves, of points in a match, of success on a given surface. In men's tournaments, favorites are hard to dethrone, especially if they are playing on their favorite surfaces.
Women's tournaments are much more balanced, with many more opportunities for different players to win. For example, eight different women won the US Open from 2011 to 2020. In this regard, if you are looking for surprises, you should focus on women's tennis, which has such all the time.
Conclusion
Tennis betting offers such a wide range of options that it is difficult to fully comprehend them. And yet, like any other game, tennis can be both a friend and a foe. Never wager more than you can afford to lose.