Dragon and Tiger online betting game
The story of Dragon & Tiger casino game began many years ago in Cambodia. This card game remains popular in Asia today and its popularity is growing in the rest of the world. This is an extremely simple game. You rely on the cards of the dragon or the tiger, hence the game. This is a comprehensive guide to playing Dragon & Tiger, which will teach you how to play this real hit in online casinos.
Dragon & Tiger – Rules
The main idea of ​​the game is to guess which hand will be higher: that of the dragon or that of the tiger. You play with a deck of 52 cards, dealing one card to Yang – dragon and Yin – tiger. You bet on one of the two options, and if your guess is correct, you double your winnings. In the event of a tie, the casino will take half of the bet amount and the other half will be returned to the player.
The game starts when the dealer says, "Please make your bets." Bets are closed when the dealer announces "no more bets". The ranking of the cards must be from the lowest to the highest: Ace, 2,3,4,5,6,7,8,9,10, Jack, Queen, and King. The winning hand is that with the highest card.
Types of bets
Below, we present which bets are losing ones and which – winning. It depends on the scenario that plays out during the game and when you place a bet using the various options. Remember these things well; they are crucial.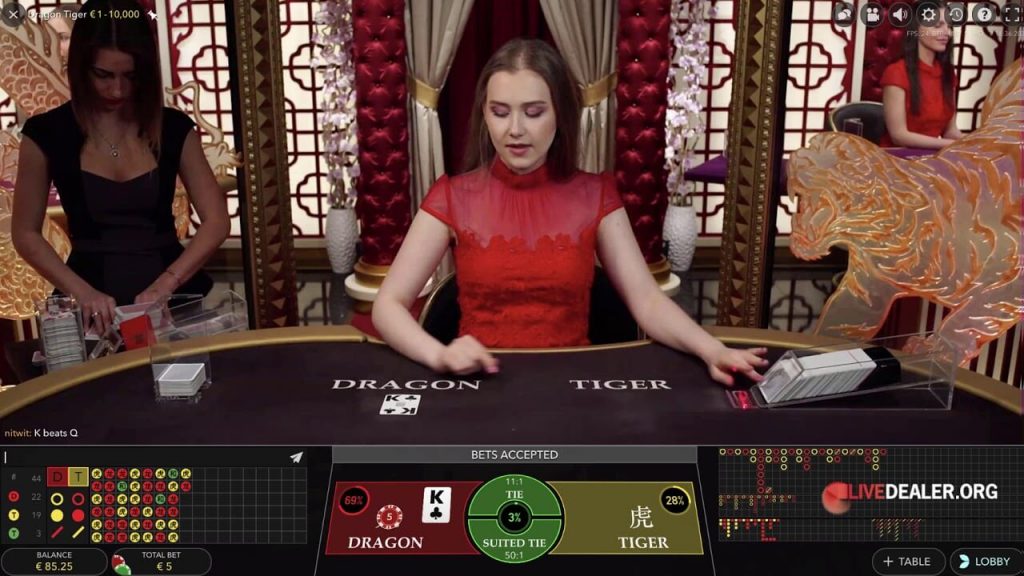 Dragon Small and Tiger Small bets win if the card drawn in the selected area (Dragon or Tiger) is "6" or lower and loses if the card is "8" or higher;
"Dragon Big" and "Dragon Small" lose if the card drawn to "Dragon" is "7";
Tiger Big and Tiger Small bets lose if the card drawn to Tiger is '7'.
Online casinos offer other types of betting that you can try. For example, you can bet on the suit of the tiger or dragon card, whether an even or odd number will appear, and how many sevens there will be. There are all kinds of options, so before you start playing, it's a good idea to look at the help menu with the rules.
What is important in the casino game Dragon & Tiger?
We managed to find out that the house edge (casino) in this game is equal to 3.73 percent. If you are not using a specific strategy or one of the more complicated betting options, you can try to guess which card will be higher – the dragon or the tiger. This way you will win 1 to 1.
The other option is to keep track of the cards that are dealt. They are few, so counting cards is doable. You can build a strategy by looking at which small and large cards have been dealt so that you know what to expect. Here, it's important to see how many sevens will be dealt, because a "7" means an immediate loss.
Card tracing leads to another tactic. If you bet on suits, predicting the suit of the next card dealt will be easier. For example, you could calculate how many cards of a given suit have been dealt so far and how many remain to be. If you notice that the fewest cards dealt have been hearts, nothing can stop you from betting that the next card to be dealt will be a heart.
Equal result bet – advantage or disadvantage?
The advantage of betting on an equal result in the casino game Dragon & Tiger brings the biggest win, namely 8 to 1. Here, however, the casino edge is much higher at over 30%, which means that the house almost always wins. It becomes even more complicated if you try to bet on equality and suit. It's best to stick to the classic type of dragon or tiger hand bet if you want to win.
In all likelihood, you will want to try a tie for a draw, and perhaps not just once, but you'll find this choice results in frequent loss. Of course, we're not saying it's not possible to win, but compared to the options presented above, this is the worst possible choice you can make. We leave the decision to you.
Are there any winning betting systems in the game?
No, no matter how hard they try to convince you that Dragon and Tiger is a game with failsafe systems, don't be fooled. The main factor is luck, as you will see. The best solution is to keep your bank without investing large sums. Try to beat the dealer by making the exact opposite prediction as him, but if your luck has run out, it's best to wait for a good spell.
Players who try to make up for losses by betting again and again are on the wrong track. Here's a hint: such card games come with extended periods, in which the house takes its share and the system simply works in its favor. We are not saying that the game is rigged, but you're just less lucky than the house. We suggest you stay calm and put betting off for a while.
Where can you play Dragon & Tiger?
There are several good online casinos that have Dragon and Tiger. These are international casinos.
Megapari;
… and more!
Final thoughts
Dragon & Tiger may be a simple card game, but the outcome depends on the players' luck, just like with poker, blackjack, baccarat, and other such games. Don't think that your predictions will always come true and you'll always be dealt good cards. You can try to play for free to get used to the game and then move on to real bets in online casinos.